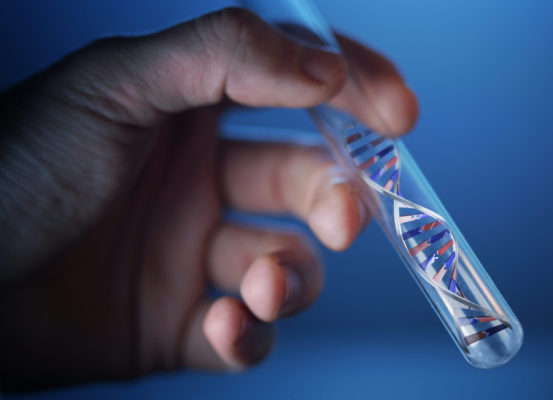 The importance of genomic findings to help diagnose and treat rare diseases.
In Europe it is estimated that up to 36 million people live with a rare disease. More than 6,000 rare diseases have been identified in the EU. Some might just impact a few patients but others are calculated to affect at most 245,000 people. Investigations show that 80% of rare diseases are of genetic origin and that from the following, 70% start during childhood1.
According to Rare Disease Europe (EURORDIS), people living with a rare disease have uncovered health and rehabilitation needs.
48% have uncovered needs regarding access to rehabilitation and therapies (21% have access but it is not enough to cover their needs, 27% of patients don't have access but they would need it).
28% have uncovered needs regarding access to health services (14% have access but don't fully cover their needs; 14% of patients don't have access but they would need it).
1 in 5 experienced rejections by healthcare professionals, often due to the complexity of the case.
On Chiesi's webpage, they estimate that there are between 7,000 and 8,000 Rare Diseases (7% of the world's population) in Europe, however there are only 102 approved orphan drugs destined for some of these diseases.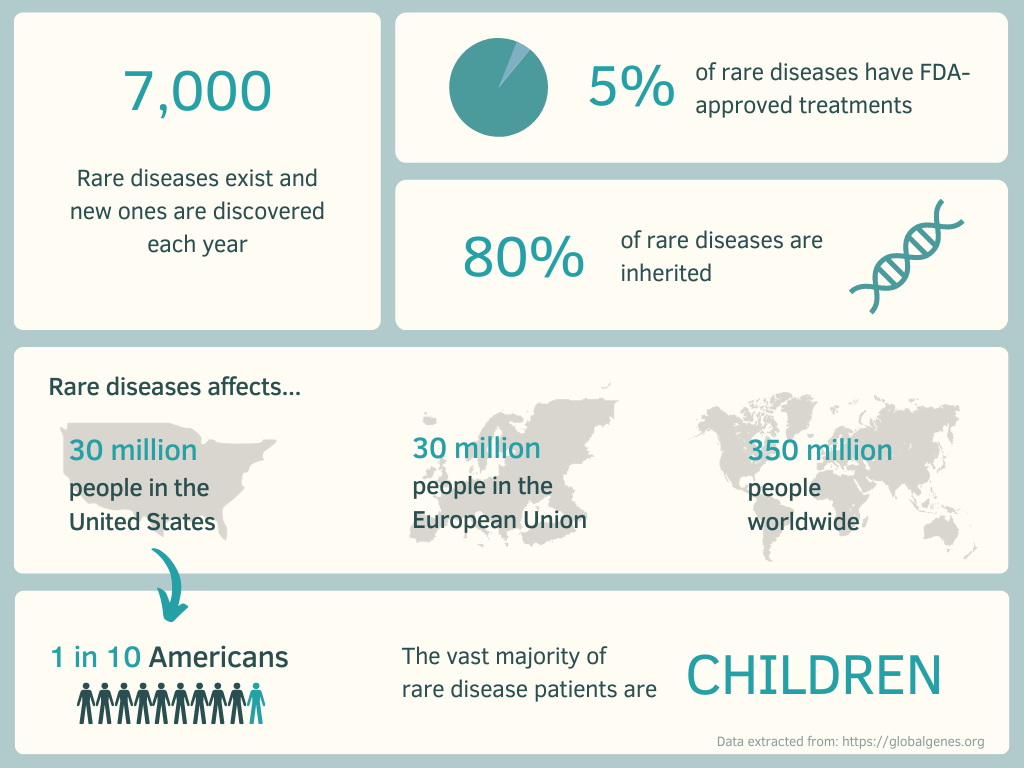 The 100,000 Genomes Project aim was to sequence and study how our genes impact our health and diseases. The information that the NHS (United Kingdom) gave to the project demonstrated the importance of research in genomics and that genome sequencing has the potential to impact the diagnoses for patients with rare diseases2.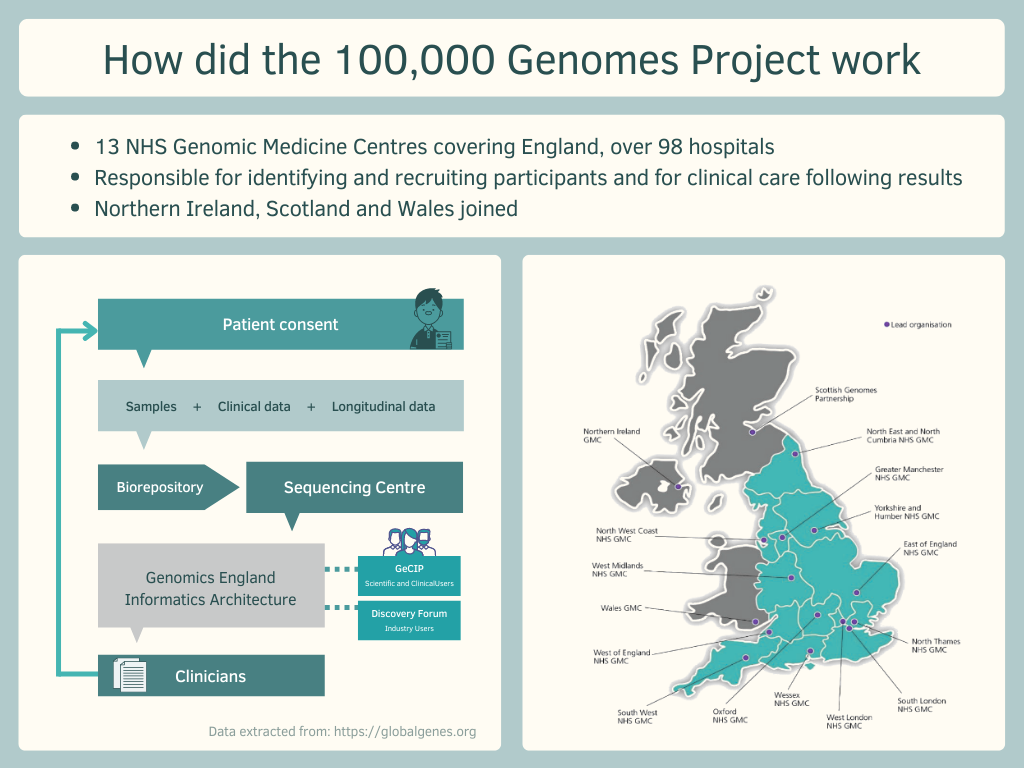 The Project resulted in actionable results mainly for patients with rare diseases and cancer. The impact of the Project was the following:
18.5% of data from the Project turned into actionable findings
85K+ participants' genomes sequenced for the Project
100K+ genomes sequenced by December 2018
The NHS made a huge contribution to the 100,000 Genomes Project, and the use of this extra information in our genomes demonstrates the value of research insights in genomics and how whole genome sequencing has the potential to transform diagnoses for patients living with a rare disease," said Professor Dame Sue Hill, Chief Scientific Officer for England and Senior Responsible Officer for Genomics in the NHS. "It is an important step in unraveling the mystery of the non-coding regions in our genomes and the role they could play in contributing to the development of rare diseases."Chief Scientific Officer for England and Senior Responsible Officer for Genomics in the NHS3.
"Our aim is to catalyze getting more valuable genetic diagnoses to patients. As we have access to more and more whole genome sequencing data it is becoming increasingly clear that variants in regions of the genome that do not directly encode protein play an important role in rare disease. These recommendations enable us to fully interpret these variants and harness them in the clinic, improving diagnosis and personalized treatment." – Dr. Nicky Whiffin, group leader and Sir Henry Dale, fellow at the University of Oxford and co-lead of the study4.
The Mayo Clinic has been recognized as one of the best hospitals worldwide in multiple specialties by Newsweek rankings while also being the "World's Best Hospital" repeatedly.
According to Adrijana Kekic, PharmD, BCACP, CTLC, the Mayo Clinic Center for Individualized Medicine is doing exactly that. The goal is to sequence every patient by the end of this decade for more accurate and precise diagnostics and personalized therapy based on their genetics and other patient specific factors.
Eric Wieben, Ph.D., the Director of Genomics Research at Mayo Clinic states that:
"Once we begin to accumulate enough data, we're going to have a better idea of which of these highly repeated sequences have an influence on the disease process."5
Dr. Lazaridis, the Carlson and Nelson Endowed Executive Director Center for Individualized Medicine at Mayo Clinic, explains that the hospital is advancing the idea of sequencing the genome of every Mayo Clinic patient. His vision is that in the future, all patients will be offered an omics testing kit — even before they come to the practice — to collect their saliva, urine, stool or hair. Throughout this test, it will be possible to count with an extensive DNA health analysis6.
"This is how we'll understand why cancer develops in an individual and how to treat it, or what led to a patient's rare disease and how to customize a therapeutic7". – Dr. Lazardis
"Our collaborative efforts will ultimately result in life-saving innovations for our patients. That is our singular focus8." – Dr. Lazardis
With the aim of contributing to the diagnostics, treatment and cure, DISGENET plus integrates vast information from various expert curated databases and the scientific literature (to discover new findings) on rare diseases, being the most comprehensive platform worldwide.
Gene-Disease, Variant-Disease, Disease-to-disease information
More than 2 million associations
Over 24.000 genes (almost all protein coding genes)
Data for 565,000 genomic variants
More than 34.000 diseases and phenotypes
If you would like to check further on DISGENET plus and its applications in the field of diagnostics and treatment please schedule a demo at: www.disgenetplus.com